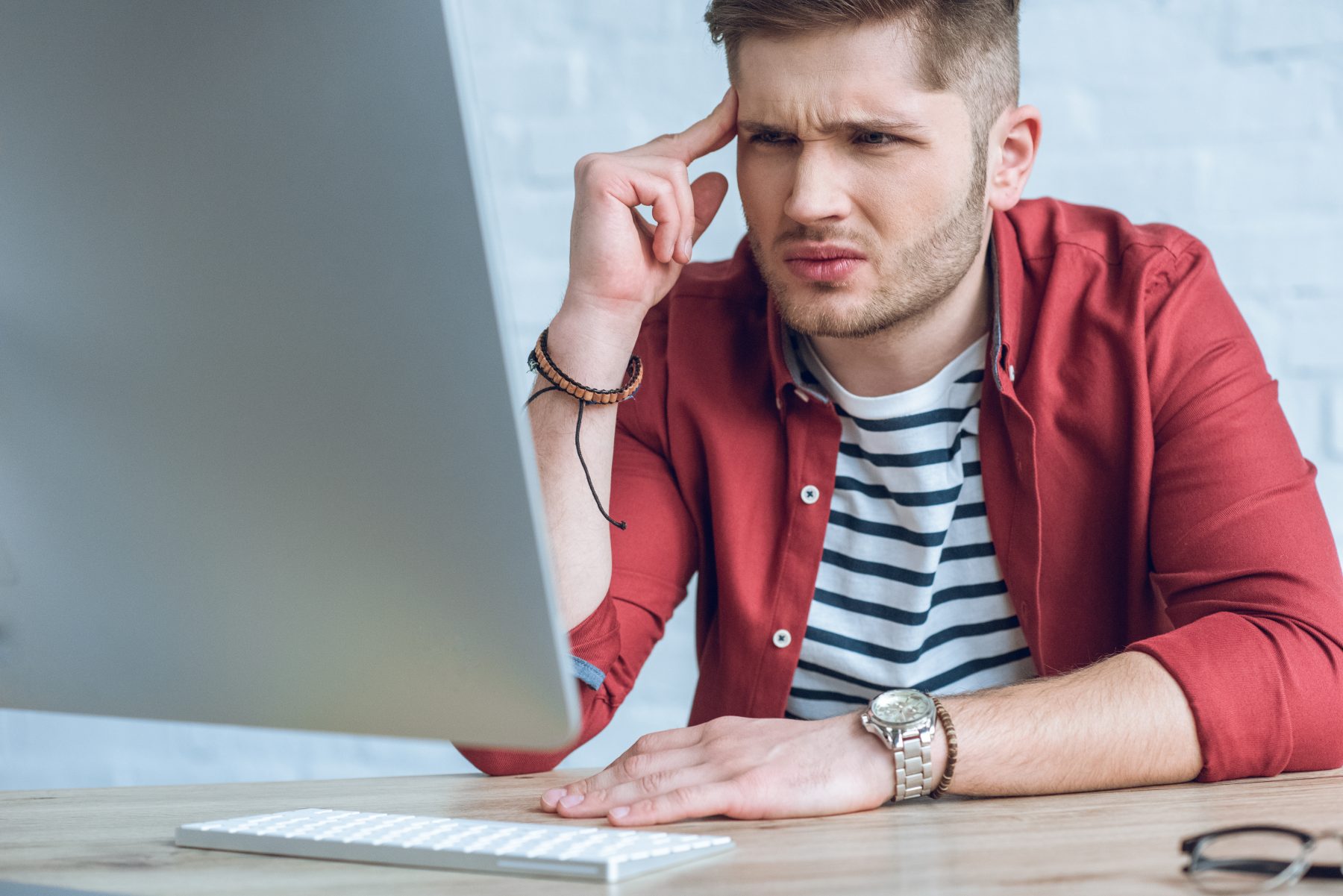 So, you decide it's time to shop your insurance after the carrier you've been loyal to for years keeps increasing your rate. You talk to friends and family who provide you with the names of multiple trusted agents.
You reach out to them and receive a quote from the same carrier for significantly different premiums. After trying to analyze, you finally throw up your hands in frustration and select the lowest-cost option. But finding the right homeowners' coverage does not have to be complicated or frustrating.
Unfortunately, many agents will do whatever it takes to win your business – but it may not be in your best interest if you're missing critical coverage.
Here is a peek behind the curtain at how carriers determine your policy premium. There are only three levers an insurance agent can pull to affect the price of your policy: coverages, credits, and deductible options. Insurance carriers file their rates with the state, so agents across the state will have the same rate for the same coverage and deductible options for your home policy.
What this means for you is that if you receive a better offer or better quote from an insurance agency showing the same carrier, one of the three (or all!) things listed below are true:
The coverage on the lower quote is less inclusive.
The other agent is giving you discounts that you may not qualify for, so their offer would jump in price later if you can't provide proof that you qualify for the discount.
The quote they are offering has a higher deductible.
Different coverages 
On your homeowners' policy, roof replacement cost coverage, water backup, foundation water damage, and hidden water seepage/leakage are coverages that are big premium drivers. That's because even though they are not the costliest claims, water and wind and hail damage make up over 60% of all losses by frequency.
If you are leaving some of these important coverages off of your policy, it's going to greatly reduce the likelihood that your carrier will have a big loss payout, so your premium is reduced.
Wind & Hail 34% of claims
Water Damage & Freezing 29% of claims
The agents applied different credits
The amounts vary by carrier, but many offer significant discounts for protective devices and bundling policies. They will usually require a certificate of installation for these devices which can be easily provided if you reach out to the company. If you don't provide the necessary information these discounts will drop off your account leaving you to pay a higher premium and wondering why your agent did not disclose this to you before issuing the policy. The age of your roof can also impact your rate significantly.
Make sure to review the discounts section on your quote to ensure there is accurate data reflected for your home to avoid an unpleasant and unnecessary premium increase down the road.
Some discounts that could drop off if you do not provide accurate data include:
Automatic water shutoff devices
Water leak sensor
Smoke detectors
Low-Temperature Sensor
Fire alarm
Interior sprinkler system
Burglar alarm
Hail resistant roof
Roof age
Storm shutters
Construction type-Brick, masonry, stucco, fire-resistive, etc.
Gated community with patrol
Bundling with auto, jewelry, or umbrella coverage
Ex. 1.1 Here is a real-world example with the exact same coverage and deductibles with different credits applied: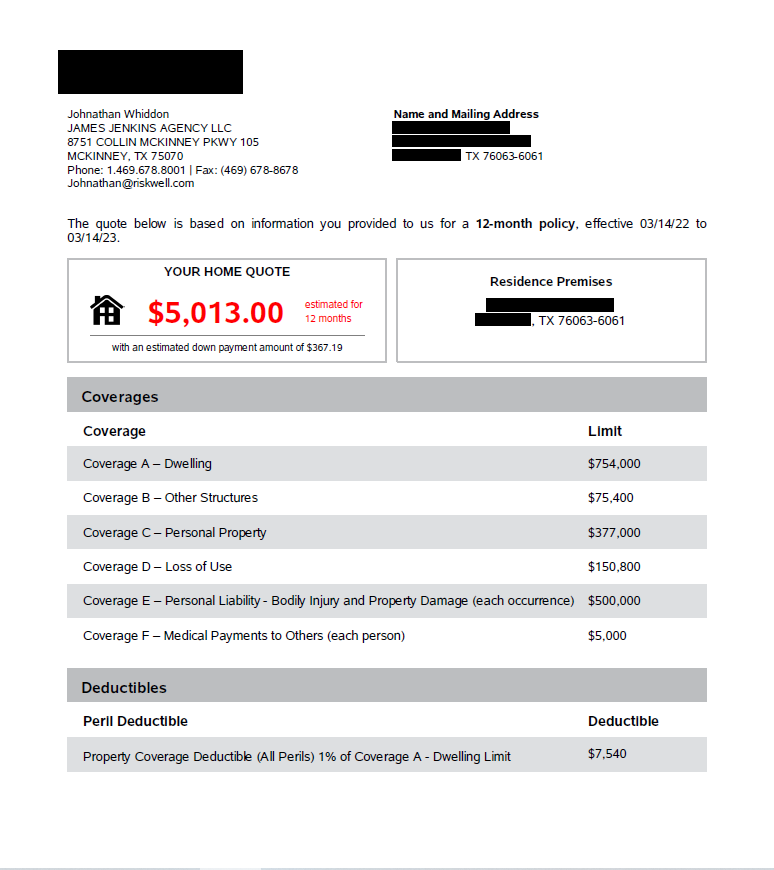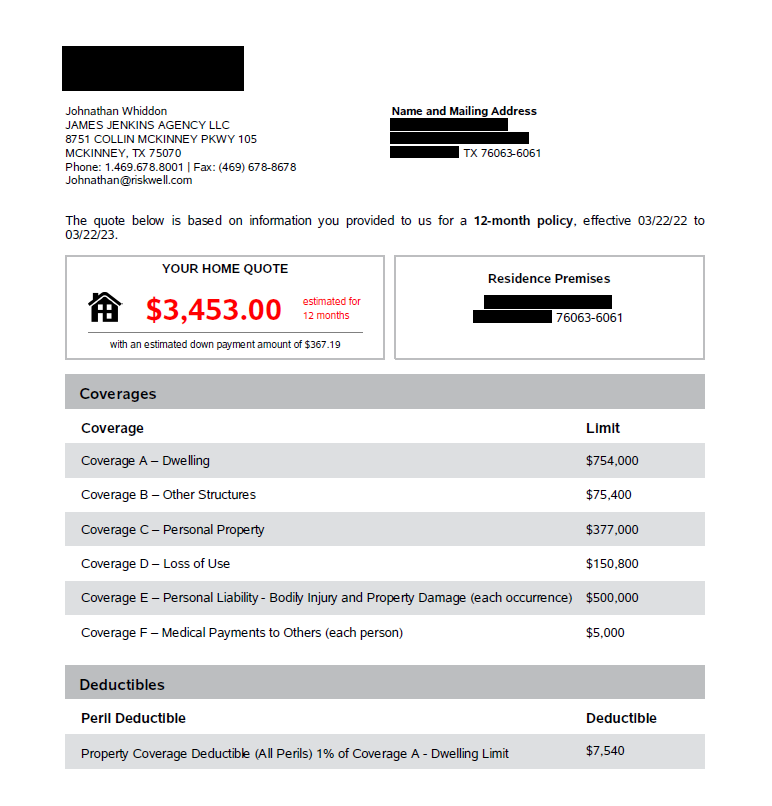 The bottom quote example has the following discounts included:
Multi-policy discount paired with auto-$825.00
New roof discount (2022 vs. 2017)-$539.00
Smart Water shutoff device-$77.00
Central Fire Alarm-$56.00
Smart Water sensor-$28.00
Interior Sprinkler system-$35.00
Total discounts-$1,560.00
You can see we arrive at very different totals when these credits are factored in. Therefore, it's important to have accurate information about your home and look at the entire package, home, auto, and umbrella, holistically instead of each policy individually.
The agents used different deductibles
Most homeowners carry a 1% All other Perils and Wind/Hail deductible on their policy, but increasing to a 2% deductible, or higher can reduce your premium. That is 1% of the total dwelling coverage amount so a home covered for $500,000 has a $5,000 deductible for instance.
Studies show that on average, major homeowners' claims happen every 8-10 years, but they could happen much more frequently depending on which state you live in and the weather you must deal with. In most cases, it does not make sense – based on the savings received – to have a deductible higher than 1% and pay more out-of-pocket at claim time. Make sure the quotes you are comparing have the same deductibles for an apples-to-apples comparison.
How do you know which quote to go with?
Here's our advice of what to consider when selecting one of the agents who quoted you:
Have each agent review what coverage limits and deductibles their quote includes. You may find that the more expensive policy actually has significantly better coverages for just a small additional cost.
The peace of mind in knowing that you will be fully covered in the case of a large claim may be enough to convince you to go with the pricier policy.
This should especially be the case if one of the agents was giving you the minimum limits. As we've learned from years of experience, the minimum limits simply aren't enough to protect you from certain claims scenarios, so if you're ever presented with a policy with the minimums, you should run away and never look back.
Consider what each agent has to offer:
Let's forget about numbers altogether for a moment.
What was the experience of quoting with each agent like? Was one more helpful or friendly throughout the process? Was one more responsive?
Your quoting call was probably very indicative of what all your other experiences will be like with these agents in the future.
What about the quality of the quotes they provided? Did you feel like they asked thorough questions and really got to know you so they could customize your coverage to you? Or did they provide a basic quote with policy minimums that could leave you with gaps in coverage?
At RiskWell, we've seen a lot of great agents, and also some not-so-great ones. We recommend doing your research by reading online reviews, checking out the agencies' websites, or even interviewing them to see if they are the right fit for you.
I hope this information leaves you better equipped when you're approached with the promise of a lower price from the same carriers. If you have any questions feel free to reach out to me at Johnathan@riskwell.com, or by calling 469-678-8082.
Please remember, Life Is Risky, RiskWell.