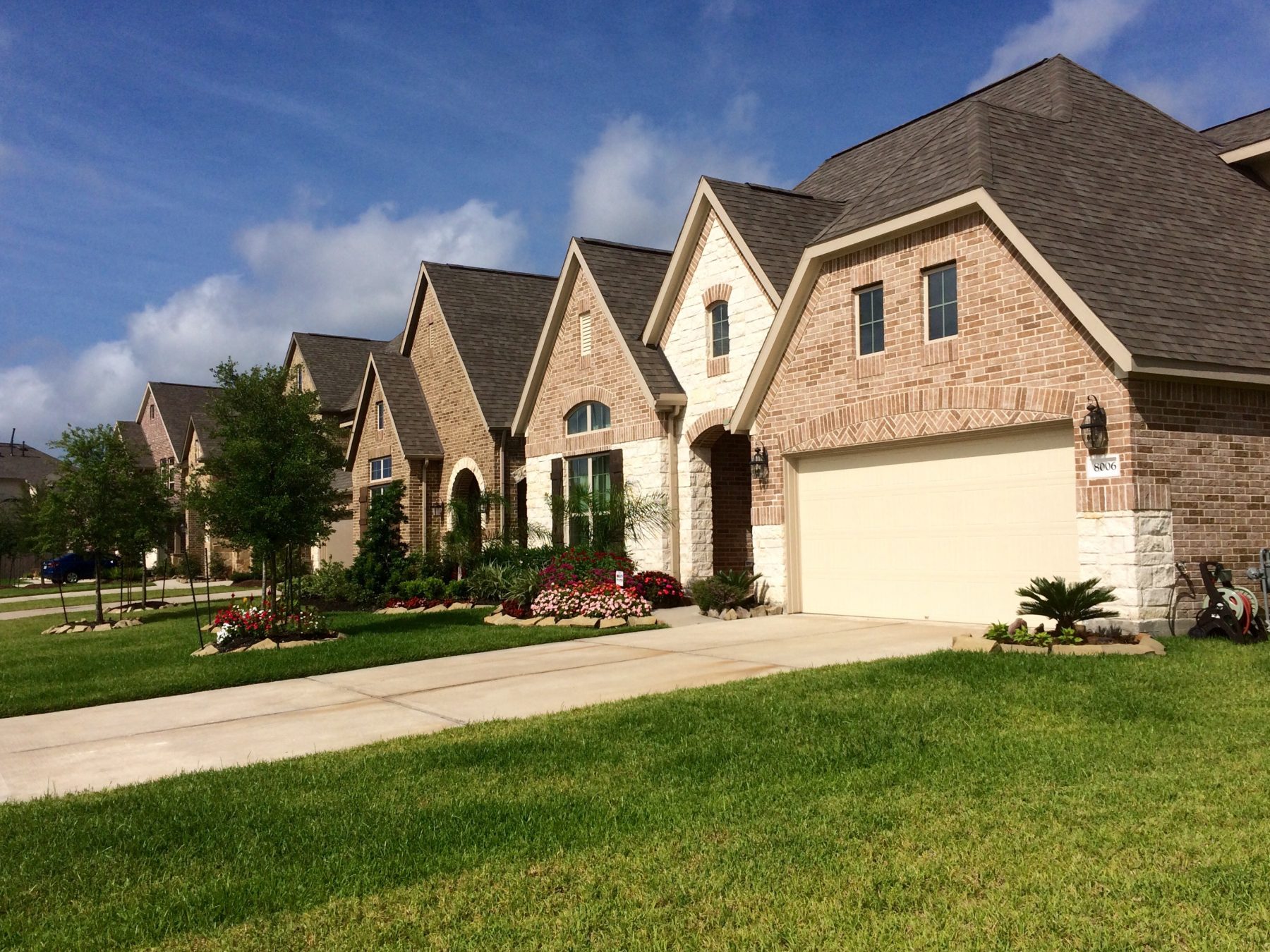 How Much Does Homeowners Insurance Cost in McKinney, Texas?
If you are moving to McKinney from out of state, another part of Texas, or are currently in the process of building a home, finding insurance is one of the major items to check off your list. This will always be one of the first questions any insurance shopper will ask when researching their coverage options
We've answered this question many times over the years, and these days, hundreds of clients will ask us for quotes or estimates every year — and many folks will raise the question in the first few minutes of our conversations.
We get it.
Price matters (it's not the only consideration, but it is an important factor). Price often dictates what type of coverage options and claim experience you might receive.
It's tough to answer this question right off the bat because there are so many variables that go into determining your coverage price. It's often tough to know the price until you've run loss reports, figured out which coverages are most important to you and your family, and determined your financial risk tolerance.
How much does a homeowners insurance policy cost?
Most homeowners' insurance policies for a standard home in McKinney will cost between $1,800 and $4,500 with the typical home value of homes in McKinney being $492,048.
Geographic location, home age, the age of the home's roof, and claim history (insurance score) are hands down the biggest factors in determining the cost of your insurance in McKinney. Proximity to a fire station is also an important factor.
With most companies, new construction homes and homes with a new roof receive significant discounts and could be quite a bit lower than the range above. The reason is simple. Newer homes, or homes with a new roof have a much lower likelihood of experiencing a loss in the near future.
Ex. 1.1 Here is an example of a home built in 2021 valued at $460,000. The policy has all the appropriate coverages, a 1% deductible, includes a package discount, and the insured has no prior losses. The insured has an insurance score of 434 due to a short insurance history.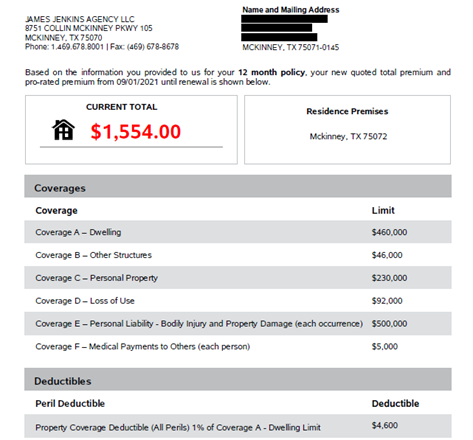 What is an insurance score?
Based on the information provided by major credit bureaus, insurers may use this information to create their own scores, known as credit-based insurance scores, to help determine your risk as a policyholder. The higher your score, the less likely you are to file a claim, and lower scores represent a greater risk to the insurance company that you'll file a claim, based on mountains of data. Premiums are determined based on risk. Therefore, your insurance score can impact how much you pay for insurance.
Score Range                                                   Rating
| | |
| --- | --- |
| 776-977 | Good |
| 626-775 | Average |
| 501-625 | Below Average |
| 200-500 | Poor |
Ex. 1.2 Here is an example of a home valued at $657,000 that was built in 2010 with a hail loss in 2017, and a five-year-old roof. The insured has an insurance score of 416.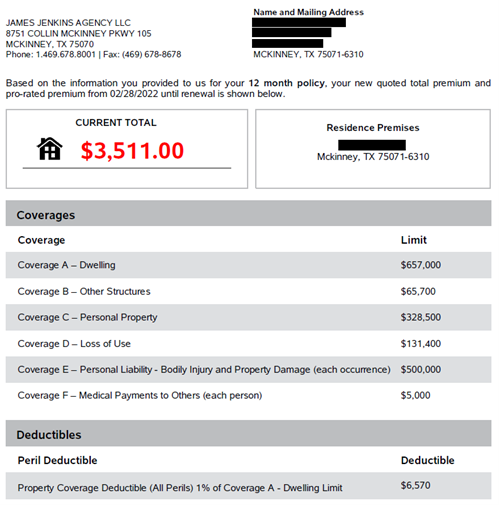 Again, everything here is simply an estimate, and your final price may look much different based on some of the factors outlined above. I hope you've developed a better feel for the potential costs of purchasing homeowners' coverage and what to expect when you start going through the insurance buying process.
If you have not had your insurance program reviewed in the last year, or you recently added a new roof to your home, now is a great time to explore your options. RiskWell partners with multiple A-rated carriers to tailor risk management programs to our clients' needs. Feel free to visit our extensive video library, pricing guide, or request a quote using this link: https://www.riskwell.com/personal-insurance/
Please remember, Life Is Risky, RiskWell.